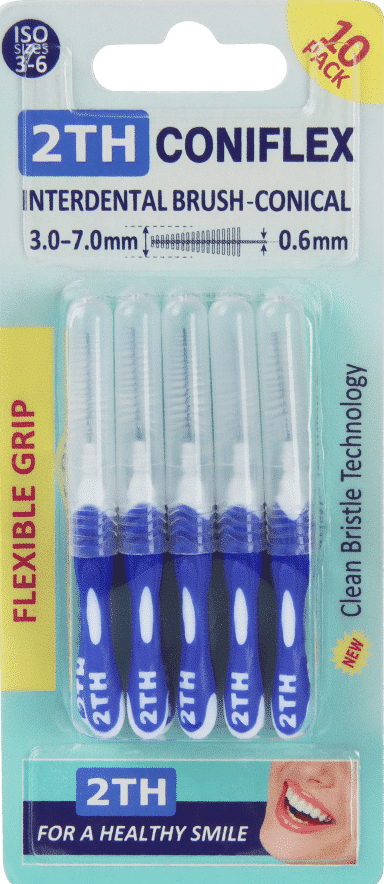 2TH Coniflex interdental brushes 3-7 mm Conical
Conical interdental brushes for perfect cleaning between teeth.
2TH Coniflex brushes 3-7 mm are conical toothbrushes with convenient flexible handle and help prevent inflamed gums and periodontitis.
Key features 2TH Coniflex brushes 3-7 mm:
Cone-shaped brush with different bristle sizes in a single brush.
Best quality coated stem and bristles.
Ergonomic, flexible handle for better manoeuvring and control.
Efficient cleaning for healthy teeth and gums.
Conical brushes with convenient flexible handle help prevent inflamed gums and periodontitis.
€

5,99
starting from

€

4,79
In stock
20% discount
Buy more than 7 poducts
15% discount
Buy more than 4 poducts
10% discount
Buy more than 2 poducts
2TH Coniflex 3-7 mm conical brush with flexible handle
"Ideal for users with different sizes of tooth spaces."
Remove bacteria and plaque with 2TH Coniflex brushes
Especially for cleaning spaces between teeth, the 2TH Care interdental brushes have been developed. Daily use of a dental brush is a simple and efficient way to keep your teeth fresh and healthy and prevent gum disease.
Prevent inflamed gums and keep your teeth healthy
Cleaning with a high-quality brush from 2TH Coniflex helps prevent gum disease, cavities (caries) and bad breath or tartar. You can use the flexible interdental brushes to remove plaque and food particles between teeth in places where a toothbrush often has difficulty reaching. This helps prevent the development of tartar on your teeth.
2TH Coniflex brushes are available in two sizes; 2-5 mm and 3-7 mm, each featuring a high quality conical (tapered) brush for safe and enjoyable teeth cleaning.
Thanks to the conical design, the brushes are ideal for users with different sized gaps; The 2TH Coniflex brush runs from narrow to wider. This design allows you to have multiple sizes at your disposal in 1 brush and allows you to ensure tooth raking and total cleaning of your teeth.
The ergonomic, flexible handle provides a controlled grip and guidance during use.
The art of interdental cleaning
In the beginning, using brushes can be tricky and can be sensitive. Bleeding gums can easily occur because the gums are often still inflamed. However, if you use the brush daily, the inflammation disappears and so does the bleeding. Practice makes perfect, so does ragging. Click here for tips and information on how to brush with 2TH Coniflex interdental retainers.
Pleasant cleaning with 2TH Coniflex:
The 2TH Care brushes are ideal for cleaning interdental spaces, implants, crown and bridgework and braces.
The interdental brushes come with hygienic plastic cap, which can also be used to extend the handle.
The flexible handle and cone-shaped DuPont™ Tynex® quality brush increase the ease of use of the brush.
The extra-long conical brush heads provide more effective cleaning.
Two sizes of brushes are available; Type A: 2-5 mm and Type B: 3-7 mm.
Due to conical brush shape there are multiple sizes in 1 brush.
Economy pack with 10 brushes.
Size chart 2TH Coniflex brushes
Brush brands, and therefore dentists and dental hygienists, almost all use different measurement units for the brushes. One brand lists only the brush size, another brand only the wire thickness and yet another brand adheres to the ISO standardization as the measurement on the packaging.
We find this confusing for users and have therefore created a table that lists all possible measurement units of 2TH Coniflex. Nice and easy. This table can also be found on the back of the 2TH Coniflex packaging:
2TH Coniflex 2-5 mm green EAN code: 8718801330104
2TH Coniflex 3-7 mm blue EAN code: 8718801330203
Contents
10 interdental brushes
Safe, Secure and Easy Payments with: