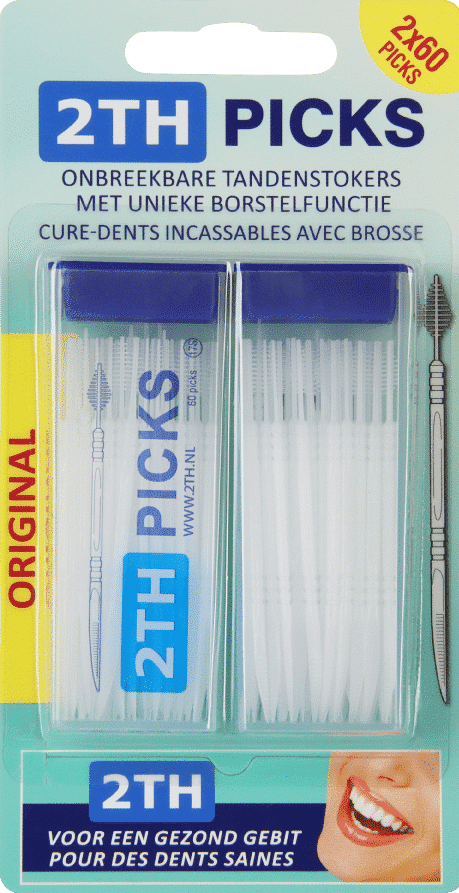 2TH Picks unbreakable toothpicks
Do you find dental care a real pain? Why not try the handy 2TH Picks: unbreakable toothpicks, each fitted with a handy brush, the ideal combination to rapidly improve your dental hygiene and keep your teeth and gums healthy.
2TH Picks help prevent and cure gum disease (gingivitis)  and retracting gums (periodontitis).
2TH Picks:
Toothpick with innovative brush
The toothpick will not break or split
Brush easily removes food residues
Removes plaque from between the teeth
Stimulates the gums
Easily penetrates between the molars
Better than dental floss
The brush also penetrates between closely spaced teet
2TH Picks is the innovative oral care product of the moment. Order now!
€

5,99
starting from

€

4,79
In stock
20% discount
Buy more than 7 poducts
15% discount
Buy more than 4 poducts
10% discount
Buy more than 2 poducts
Why choose 2TH picks unbreakable toothpicks?
2TH Picks unbreakable toothpicks remove food debris, plaque and tartar through effective ridges and stimulate gums, without damaging crowns and bridges. 2TH Picks help you prevent and cure inflamed gums (gingivitis) and retracting gums (periodontitis).
The plastic toothpicks do not split or break*, this feature offers a lot of comfort to users. The flexible brush also gets between teeth with ease. Ideal for daily use. Very hygienic. 2TH Picks toothpicks are available per 120 pieces, packed in two handy cases.
In addition to these handy toothpicks, please check out our other products.
*2TH Picks toothpicks are unbreakable during normal oral use. Avoid forcing this product product into small tooth spaces. Keep out of reach of small children. Advice: use a new 2TH Pick for every cleaning session.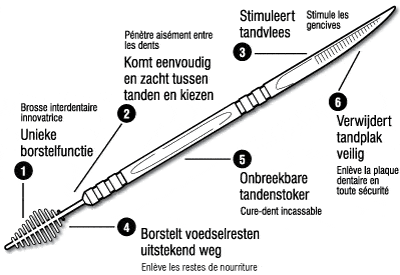 Safe, Secure and Easy Payments with: