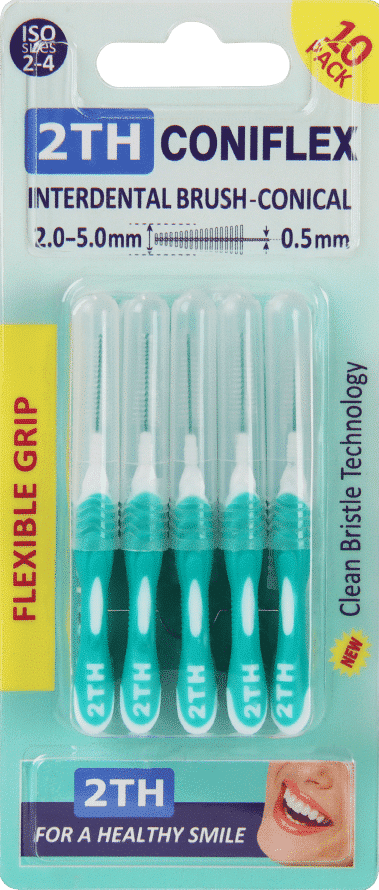 2TH Coniflex interdental brushes 2-5 mm Conical
Cone-shaped interdental brush for perfect cleaning between your teeth.
2TH Coniflex cone-shaped brushes with a convenient, flexible handle help prevent gingivitis and periodontitis.
2TH Coniflex 2-5mm regular cone-shaped brush with flexible handle

"Ideal for users with different sized gaps between their teeth"
Key features 2TH Coniflex brushes 2-5 mm:
Cone-shaped brush with different bristle sizes in a single brush.
Best quality coated stem and bristles.
Ergonomic, flexible handle for better manoeuvring and control.
Efficient cleaning for healthy teeth and gums.
€

5,99
starting from

€

4,79
In stock
20% discount
Buy more than 7 poducts
15% discount
Buy more than 4 poducts
10% discount
Buy more than 2 poducts
Remove bacteria and plaque with 2TH Coniflex brushes
The 2TH Coniflex interdental brushes are designed specifically to clean those hard-to-reach areas between your teeth. The daily use of an interdental brush is a simple and effective method to keep your teeth strong and healthy and to prevent problems due to plaque.
Prevent gum problems and keep your teeth healthy
Cleaning with a high-quality 2TH Coniflex brush helps prevent gum problems, cavities, bad breath, and plaque. You can remove plaque and food between your teeth that are difficult to reach with a regular toothbrush. This helps prevent plaque formation on your teeth.
2TH Coniflex interdental brushes are available in two sizes: 2-5mm and 3-7mm, and each size comes with a high-quality cone-shaped brush for safe and comfortable teeth cleaning.
Thanks to their conical shape the 2TH Coniflex brushes are ideal for users with different sized gaps between teeth. The 2TH Coniflex brush gradually increases in width. This shape provides different sizes in a single brush to ensure excellent cleaning between your teeth.
The ergonomic flexible handle provides a controlled grip for easy manoeuvring during use.
The art of brushing
When you first begin, the brushes are sometimes uncomfortable if your gums are tender. Your gums may bleed because they may be inflamed. However, if you use the brush every day, the inflammation will disappear and bleeding will stop. Practice makes perfect, and that applies to brushing too. Click here for tips and information on how to brush with the 2TH Coniflex interdental brushes.
Comfortable cleaning with the 2TH Coniflex:
The 2TH Coniflex brushes are ideal for cleaning between teeth, implants, crowns, bridges and braces.
The interdental brushes come with a hygienic plastic cover that can also be used to extend the handle.
The flexible handle and the cone-shaped DuPont™ Tynex® premium quality brush increases the ease of use.
The extra-long, cone-shaped brush heads clean more effectively.
The brushes come in two sizes: Type A: 2-5mm and Type B: 3-7mm.
There are multiple sizes in one brush thanks to the conical shape.
Value packs with 10 brushes.
Size chart for 2TH Coniflex brushes
Most brands use different sizing units for the brush. One brand may only specify the brush size, whilst another brand may only specify the thickness of the stem, and yet another brand may follow the ISO standard for specifying sizing on the package.
We believe this is confusing for users. Therefore, we have created a chart that lists all possible sizing units of the 2TH Coniflex. That makes it easy. This chart can also be found on the back of the 2TH Coniflex packs:
2TH Coniflex 2-5 mm green EAN code: 8718801330104
2TH Coniflex 3-7 mm blue EAN code: 8718801330203
Good product. Works great for me.
Contents
10 interdental brushes
Safe, Secure and Easy Payments with: