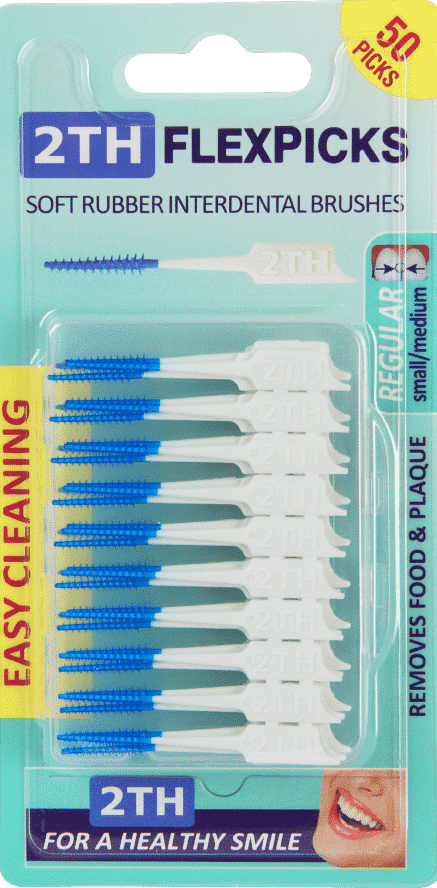 2TH Flexpicks soft picks
2TH Flexpicks are flexible, soft rubber toothpicks that make it easy to remove plaque between your teeth. They help prevent plaque as well as inflamed and bleeding gums.
"2TH Flexpicks, the most pleasant and effective way of interdental brushing"
2TH Flexpicks improve your oral health!
Daily use of 2TH Flexpicks significantly helps improving your oral health within 2 weeks. Find out how easy and efficient 2TH Flexpicks are. Try the toothpicks in combination with the interdental tooth brushes for optimal results.
€

5,39
starting from

€

4,31
In stock
20% discount
Buy more than 7 poducts
15% discount
Buy more than 4 poducts
10% discount
Buy more than 2 poducts
2TH Flexpicks soft picks: the most gentle and effective tool for picking and brushing between your teeth
Prevent inflamed and bleeding gums?
The flexible, soft rubber brush stimulates and massages to promote blood circulation and strong and healthy gums.
2TH Flexpicks gently and effectively remove food and plaque between your teeth. The flexible toothpick cleans the areas between your teeth that your toothbrush cannot reach.
2TH Flexpicks are latex-free and do not contain any metal, which means they cannot damage tooth enamel.
The flexible brush extends easily between teeth and, thanks to their conical shape, the Flexpicks are ideal for most interdental spaces.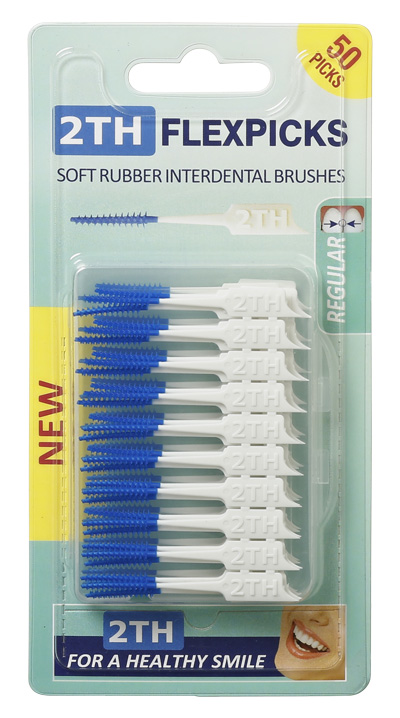 It has been clinically proven that 2TH Flexpicks help reduce gingivitis (inflammation of the gums) and periodontitis.
Includes a convenient, hygienic handy carry pack.
50 Flexpicks per pack.
Safe, Secure and Easy Payments with: