2TH Picks unbreakable toothpicks with brush
2TH Picks are unbreakable toothpicks, each fitted with a handy interdental brush.

Do you find dental care a real pain? Why not try the handy 2TH Picks: unbreakable toothpicks, each fitted with a handy brush, the ideal combination to rapidly improve your dental hygiene and keep your teeth and gums healthy.
Effective ridges help remove food particles and dental plaque while promoting blood circulation in the gums, without damaging crowns and bridges.
2TH Picks help prevent and cure gum disease (gingivitis) and retracting gums (periodontitis).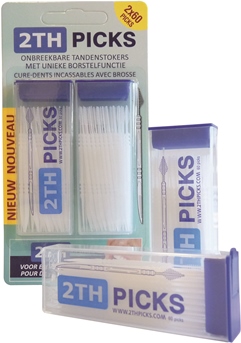 The plastic 2TH Picks toothpick will never split and never break. The flexible brush extends between the teeth gently, even between the normally hard to reach back teeth, making them ideal for daily use. Try this brush and toothpick in one, for extra hygiene.
2TH Picks improve your oral health
Daily use of the 2TH Picks significantly helps improving your oral health within 2 weeks. Find out how easy and efficient 2TH Picks are in use. 2TH Picks is the innovative oral health product at this moment!
View the 3d-animation for 2TH Picks:
2TH Picks:
Unbreakable toothpick; will not break or crack
Unique flexible brush
Brushes away food debris
Safely scrapes away plaque
Stimulates gums
Manoeuverable and easy to hold
More effective than flossing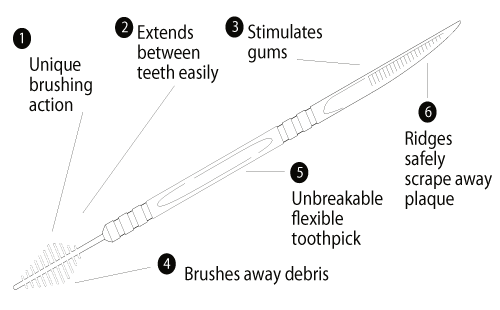 2TH Picks EAN code: 871795307874
*2TH Picks are unbreakable during normal oral use. Avoid forcing this Product into too small gaps between the teeth. Advice: use a new 2TH Pick for every cleaning session.